About Us
Our owners wanted to create something wonderful. So they did. Porterhouse Wine Bar & Kitchen was born. Through a wealth of experience accumulated over 25 years  within the corporate world and the restaurant business, combined with the culinary expertise gathered collectively within this dynamic powerful team, PWBK encompasses everything a local independent steakhouse should be.
Pulling together the local areas need for earth shattering, mind blowing steaks cut from the finest part of the loin, aged for 28 days, marinated for 48 hours and cooked on our adjustable charcoal grills, something quite special was on offer – our speciality Porterhouse Steak. Take a look at our menu and contact us today for a booking or just drop by.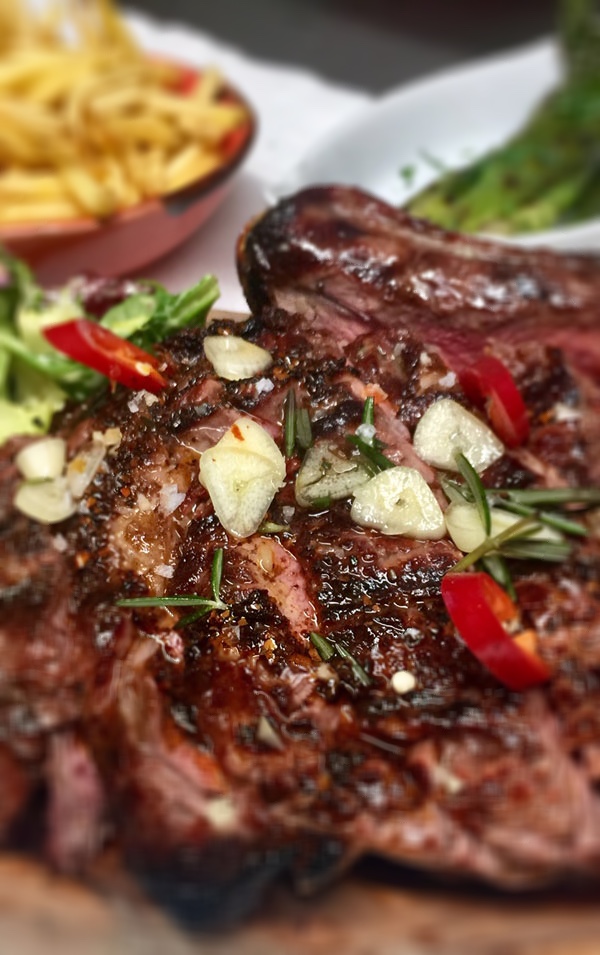 Our speciality – the Porterhouse Steak – has been claimed to first originate in Manhattan in the USA around 1814. We can safely say it's been a treasure ever since! 
Cut from the short loin to include the 'T' shape lumbar to provide a whopping slice of fillet to satisfy the need for that feeling of total comfort and happiness when you have a steak that is perfect, tasty, mouthwatering and melts in your mouth. .
Using the very finest in ingredients and techniques, and using our adjustable charcoal grill, you are sure to be in culinary heaven with our 1kg Porterhouse steaks. Our highly skilled Head Chef has everything covered and your taste buds will be infused with the deepest of flavours and set alight with the mixture of ingredients that are dripping from your plate. 
Our steakhouse is independently run and we pride ourselves on this. We ensure you have only the very best in staff to serve your every need. 
We have a long standing, trusted, skilled and professional team from our Chefs to our barista's, to our waiting staff. They are all equal. They are all amazing. 
Daily Fresh Menus
From a quick lunch bite with our Cray Fish Salad or the subliminal speciality Porterhouse Steak, we offer the finest of fresh and quality ingredients. What are you having today? Lunch? Brunch? Dinner Feast?
Fresh Ingredients
We source the very best of ingredients for our customers. Providing Aberdeen Angus cuts and Billingsgate Market fish, we've got everything covered to provide quality tastes and textures. Porterhouse or Sea Bass for you today? 
Fabulous Cocktails
Sometimes we all just need a cocktail to sink into our veins after a hard day or to start a celebration off. It puts you in a decadent mood! So if you don't know your Bahama from your Smoky Attitude….it's time to be aquainted with our infamous PWBK cocktails.
Creative Chefs
Our chefs are highly skilled and have trained with some of the biggest names (we don't name drop) so with the choices of dishes and our techniques and equipment, your taste buds are in for a real experience. It will be a memorable one we guarantee that. 
Quality Wines
We have a carefully hand selected listing of white wines, red wines and champagnes to suit every palette. There is somethin to satisfy that need and quench to accompany your meal. Try our fine and elegant Chateau Cantaloupe Bordeaux or our delicate and refreshing Sancerre. 
Quality Coffee
From lunch time to after dinner compliments, enjoy our luxury coffee to finish off the evening perfectly. We have a varied range from the beautiful aroma of Turkish Coffee, to our classical Capuccini with a twist. Soft, creamy and delicate offerings to toast off your evening.